Marjorie Sloan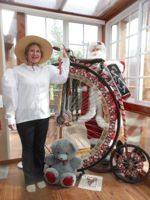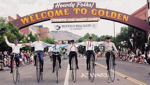 2002 July 27th Host to 35th Wheelmen Meet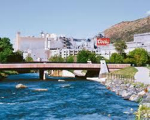 Home of Coors, largest brewery in USA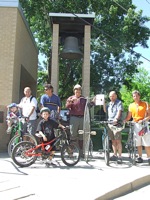 2005 NBG Day in Golden
Councilor Bill Fisher and his two young sons, Chris Krieg, Steve Stevens, Mayor Jacob Smith, John Reinthaler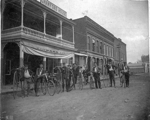 1889 Golden Washington Avenue across from the Foss Building, one block from the current Arch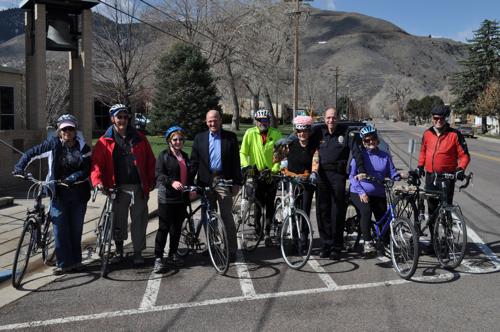 Linda Hartman, Steve Stevens, Mayor Marjorie Sloan (elected – part time with authority) , City Manager Mike Bestor (appointed by Mayor and Council – all Department Heads report to him) , Dan Dougherty, Nannette Johnson (from Georgia – had done Atlanta Mayor's ride), Police Chief Bill Kilpatrick, Saoirse Charis-Graves (Golden City Councilor on Electric Assist Bike), Mr. Dendy Sloan (Mayor's Husband to bike Vancouver to Tijuana this summer).
Ride Report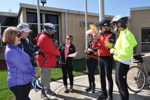 Mayor Sloan w/Stevens & 8 other (4 not pictured) cyclists.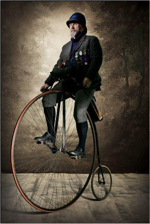 Steve Stevens
Fastest HiWheel TransAm (29 days)!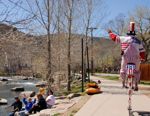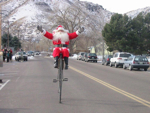 Home of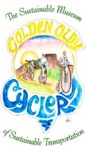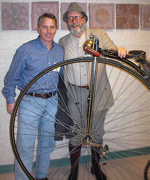 Greg Lemond at Golden Oldy